How To Execute Kitchen Lighting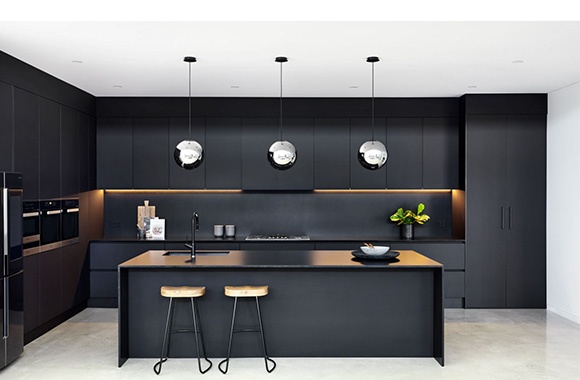 Learn all you need to know about executing the right lighting design for your space, for ultimate form and function.
Tackling a kitchen renovation can be a headache, a lighting plan could be far worse if not executed correctly. From mismatched fixtures, incorrectly placed, too dull or bright, too big or small in size, these minute details could be niggly imperfections in your new space. We'll walk you through the requirements of a functional lighting plan, so you can get on with your project. We've rounded up the best advice from leading designers and industry personnel to understand what works, what doesn't and what you should steer clear of.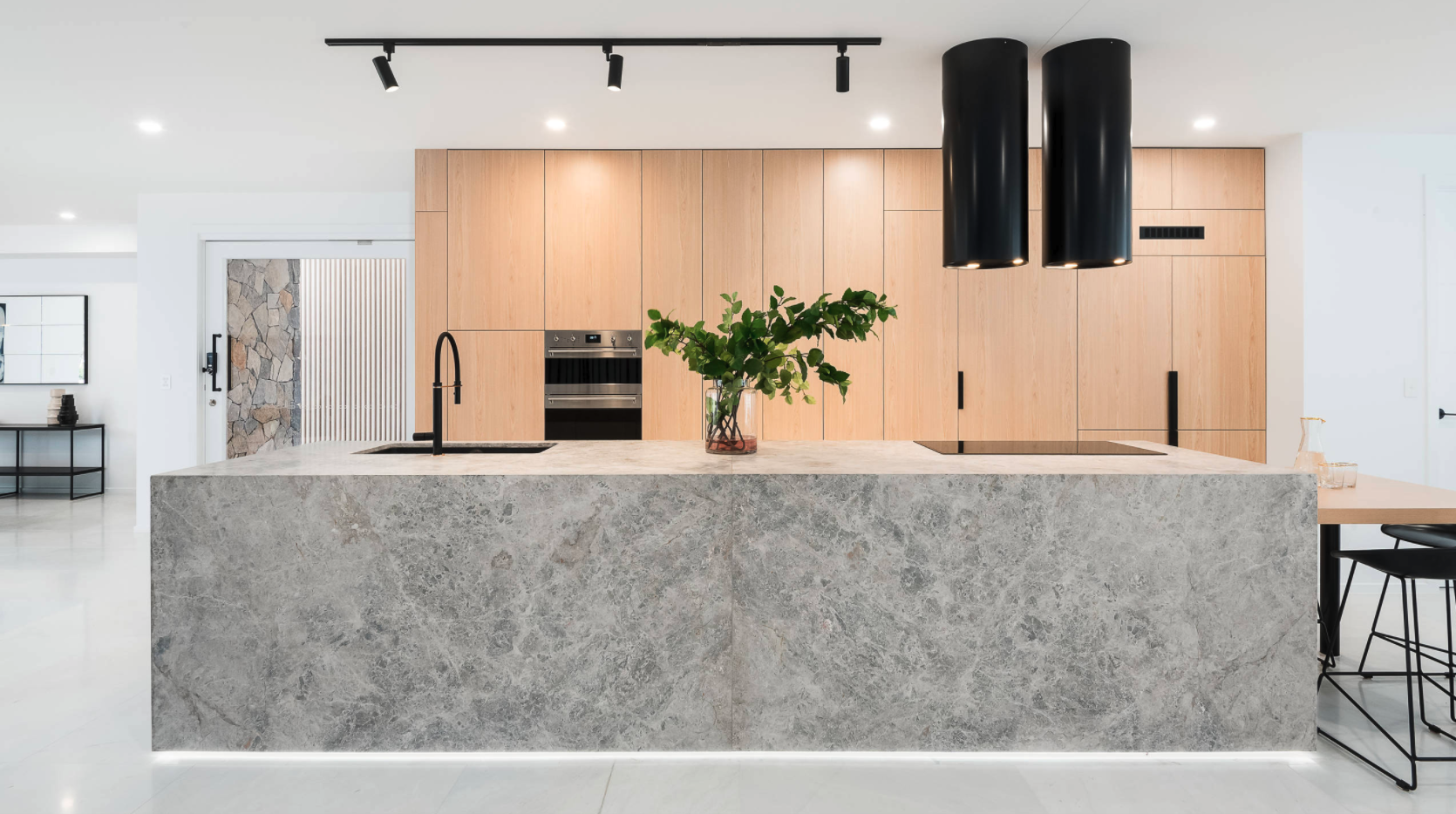 Step Back
What prominent features do you want to see when you first enter your kitchen? There are an abundance of options to choose from; a row of hanging pendants, a central ceiling light, downlights, recessed moulding lights, led strip lighting, the list could go on. Deciding early on what you want the final product to look like is crucial to staying accountable and on-track. If you are unsure of what options await you, we recommend that you start forming a mood board. Take material samples and swatches as well as inspiration pictures from your favourite social media platforms to coordinate your design.
Once you know what you're going for you can easily begin to slot the pieces in place. When choosing your pendant lighting create a mock-up with the correct height and width and see how it looks in your space.
Determining Questions
Does the size of the pendant match the space?
How much light will it emit into the room?
Will it have to be offset with additional lighting?
How many will I need to fill the space I have?
Does it go with the style of kitchen I have chosen?
What is the clearance from the bench-top to the pendant?
Ask yourself the questions above and compare with a sample you have made from cutting out the measurements in cardboard, a stock sample or use a tape measure to outline the lights shape. We recommend leaving 60 – 70 centimetres clearance between the bench-top and the pendant, this can be altered on pendants that are smaller meaning they can be lower to the bench-top or large pendants could be placed higher. Keep in mind that pendants are mostly used as ambient and accent lighting solutions, to provide character and create a soft, cosy and intimate mood. Pendant lighting gives off a soft glow and on its own is often not enough to adequately light your bench-top. Offset your pendant lighting with overhead downlighting to ensure you can prepare food, read cookbooks and have enough light to eat at any time of the day.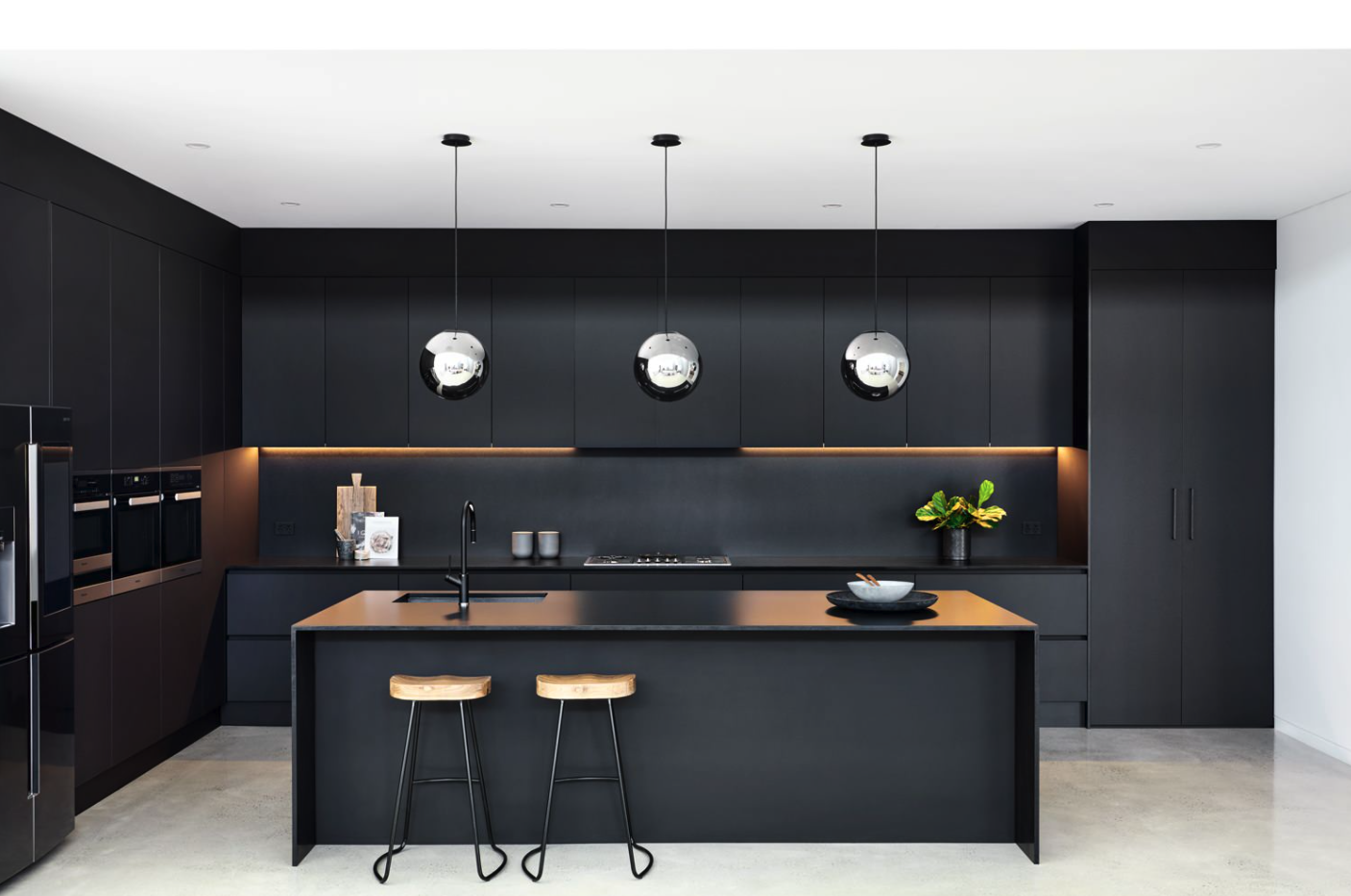 Layer Your Lighting
We've briefly talked about layering above, here is where we take a deep dive. Lighting options don't often come in all purpose solutions, due to the shift of natural light throughout the day. There are three different types of lighting needed in a kitchen; task lighting is used to provide sufficient illumination to spaces that are dedicated to prepping food, cooking and washing up, ambient lighting is used for general illumination and character, and accent lighting is used to highlight specific features of the kitchen.
Task lighting can be achieved with integrated LED strips lights or down-lights under an overhead cabinet. Task lighting uses techniques to ensure there are no shadows in your prep zones. The best way to conquer this is to install lighting in front or above you, rather than behind you.


Accent lighting is the finishing touch to your kitchen design. Using strip lighting and integrated profiles, this form of lighting can be seen in kick-board lighting, integrated cabinet lights, over cabinet, and other lighting that can accentuate backsplashes and focal points of your design. These lights can give a soft halo glow to your kitchen and may also intersect with task and ambient lighting as well.

Ambient lighting is your main source of light in addition to natural light or the lack thereof. You want to create an even hue of light across your bench-tops from the ceiling. Use a combination of pendants, chandeliers, recessed lighting and flush mounts.

To make sure your kitchen is adequately light make sure you meet all lighting options above. Ensure all your bench space has an even hue of light at all times of the day, architectural features of your kitchen are highlighted and aesthetically beautiful at first glance and all dim areas have the ability to have a light source available if needed.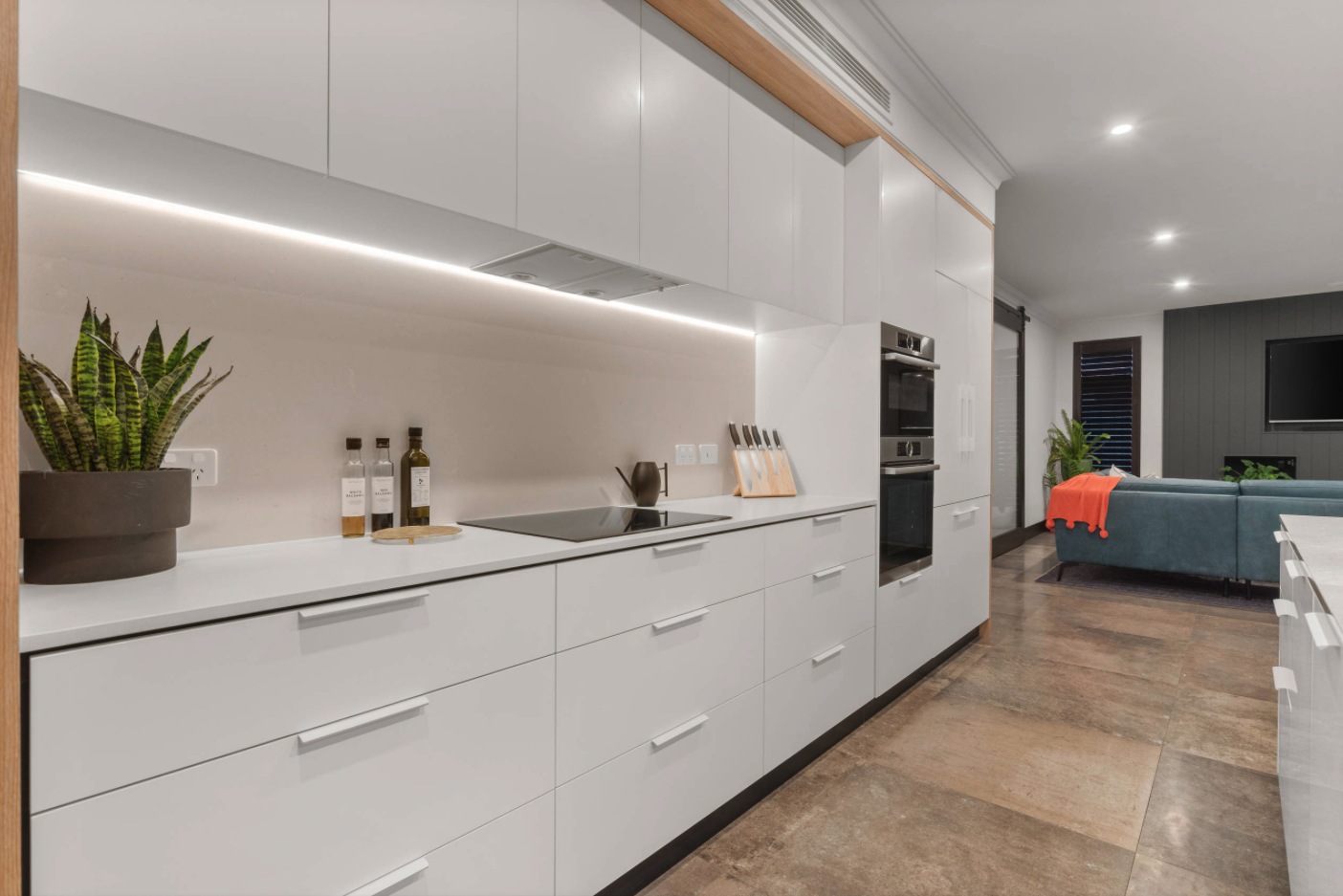 Safety Precautions
While layering your lighting, understand how you will use each of the spaces within your kitchen. What bench space will you be using to prep, cook, read and wash up on? This is easy to determine, check that you have adequate lighting above all your appliances; sinks, ovens, cooktops and open bench space either side of these appliances. Use your task lighting options to meet the requirements of this space, track lighting is another good solution to providing flexible task lighting to your zones.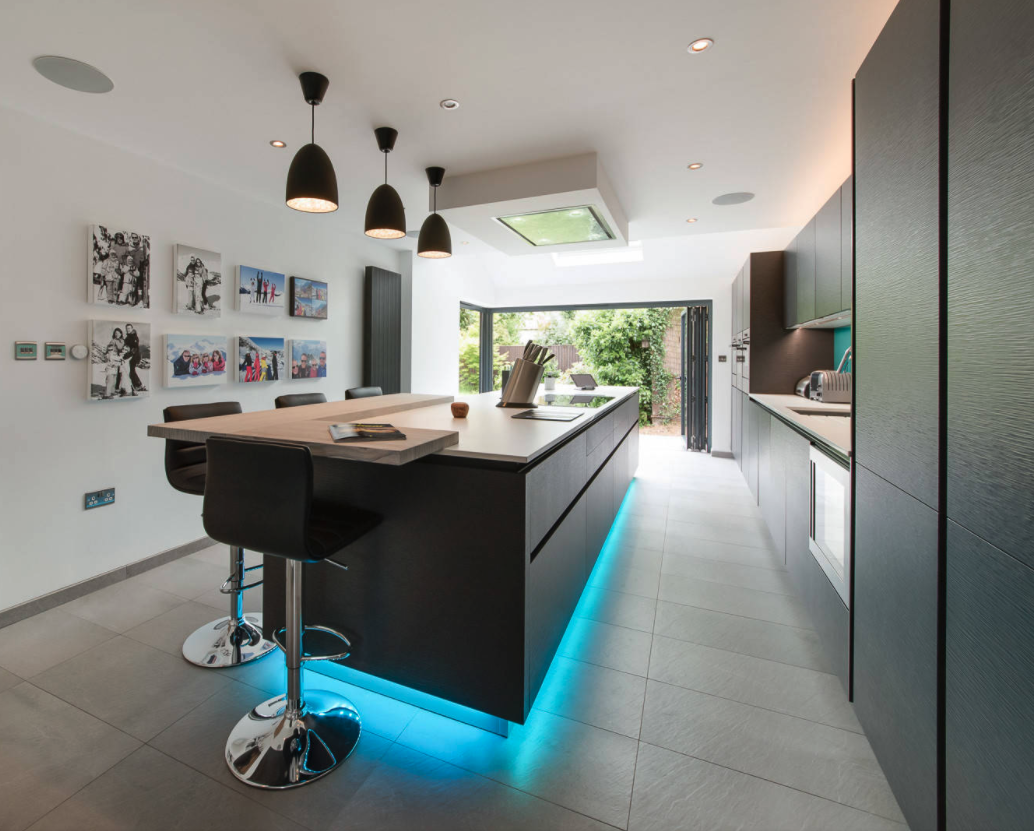 Sourced From:
Kitchen Matters.
Mark & Felicity Govan. Buckinghamshire, United Kingdom.
Merge Tech and Control
Take control of your lighting arrangement by installing dimmers and control switches to your lighting design. Integrating technology with customisable lighting will help you understand what you use each space of and how much lighting you need in it. Different times of the day call for different amounts of light, in the early hours of the morning and late hours of the day stronger light is needed or a soft diffused glow can be sufficient. Adjusting the brightness, colour, temperature and even which lights are on or off helps power efficiency levels and can be dictated by your mood. In addition, if you purchase colour temperature lights you don't have to make the ghastly decision of deciding which temperature you prefer. However, it is important to understand which temperature does what. Take a peek at the Temperature Guide we put together here.


If you have any queries about our lighting options or design elements, feel free to contact our Technical Sales Representatives who can assist in matching you and your needs with your perfect lighting fixtures.