How To: Update Your Cupboards with Push Latches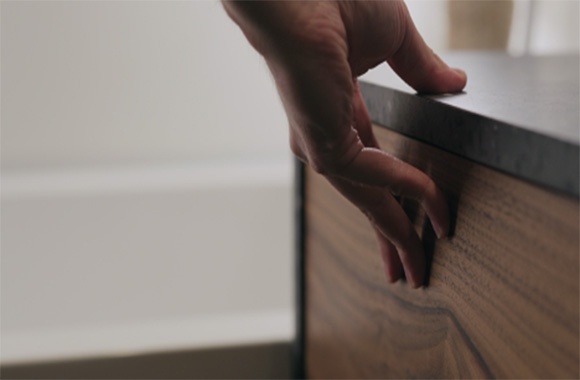 Maintain a sleek and modern design with our easy to install push to open latches. Our push to open mechanism effortlessly keeps your cupboards firmly closed and secure, ensuring a linear style throughout. At the touch of your fingertips you can open your cabinet doors with ease and eliminate noise pollution within your home. Follow our step-to-step guide on how to install your push to open mechanisms without all the fuss.
Supplies you will need:
•
Fixing Screws
• Screwdriver (Phillip Head)
•
Titus Push Latch Ki
t x 1
Step 1: Identify the location of the push to open mechanism
The cabinet type and location will determine the setting needs for the mechanism. Base cabinets require the mechanism to be installed on the top of the cabinet across the support railing. Wall cabinets require the mechanisms to be installed on the bottom of the cabinet. While, pantries require the mechanisms to be installed on the support rail of the fixed shelf.

Step 2: Attach the mounting plates to the cabinet
The push latch is available with either a cruciform or linear mounting plate for an elegant finish. Determine which way you want the door to open, you can then place the hinge plate on the left or right side of the cabinet. Use the screwdriver to fix the mounting plate into the side of the cabinet, as per positioning suggestions above. The cruciform mounting plate uses a 32/37 standard drilling pattern. The auto alignment feature makes it easy to install and compensate for any inaccuracies in drilling.

Pro-Tip: There will be an arrow on the hinges which will face towards the front of the cabinet, once installed.


Step 3: Attach the push latch mechanism to the door

The push latch attaches to the mounting plate with just a snap! Simply align the end of the mechanism to the end of the mounting plate and push down on the front of the mechanism until it clicks into place.

Step 4: Adjust to suit your cabinet.

The depth adjustment feature ensures reliable and consistent closing. Rotate the end of the push latch mechanism to test what works best for your cabinet. The push latch has a depth adjustment from +4.5 / - 1mm.
Want to see our
Push Latches
in action? View our short video on their performance and how they can improve your door solutions.