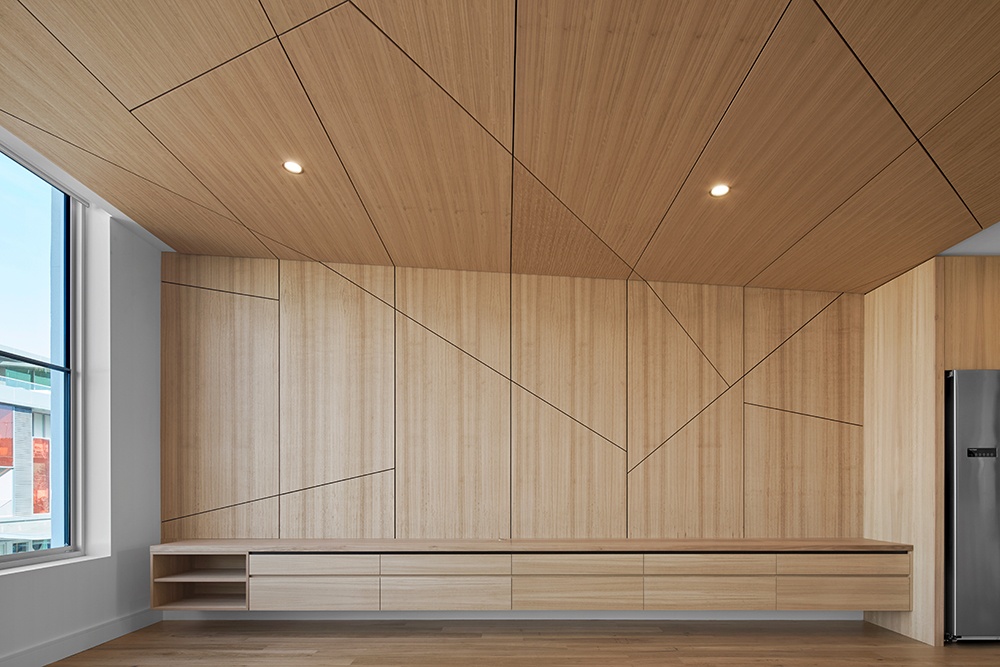 CONCEALED PANEL MOUNTING EMPHASISES NEGATIVE DETAILING
The stunning feature wall in this Elwood apartment was a late addition to the renovation of the Melbourne inner-suburb residence. The client's desire to extend the timber pattern across the roof presented a challenge, requiring a more secure mounting than standard adhesive options. Through careful searching, installer and designer Matt from Sawdust Timber Furniture finally found the perfect product for the job.
Fastmount® concealed panel mounting offers secure, hidden, removable fixings that allowed Matt and his team to perfectly align each panel for a clean finish. Designed and manufactured in New Zealand, the clips allow individual panels to be removed with ease in a non-sequential system, so were capable of being replaced back in the exact position each time, or adjusted as needed. The precise positioning of each panel creates a consistently superior veneer across the wall and ceiling and the perfect backdrop to the family living area.
To create the installation, Matt and Adam from Sawdust Timber Furniture, a joinery workshop in Ringwood, Victoria, mounted Blackbutt Veneer pressed onto moisture resistant mdf. The wall was a plastered timber frame, so 16mm holes were drilled for the Fastmount clips to ensure the board could be mounted as close to flush as possible.
Fastmount® provides secure self-centering mounting in all conditions to allow for panel flex and movement. Fastmount® has a variety of uses across the marine, recreational vehicle, aviation and architectural industries. The wide range of clips also includes metal sets compatible with fire rated panels for commercial or heavy load-bearing applications.
For further details, visit our Fastmount
product pages
or download the Fastmount
brochure
. For more information,
contact
your local Titus Tekform representative.