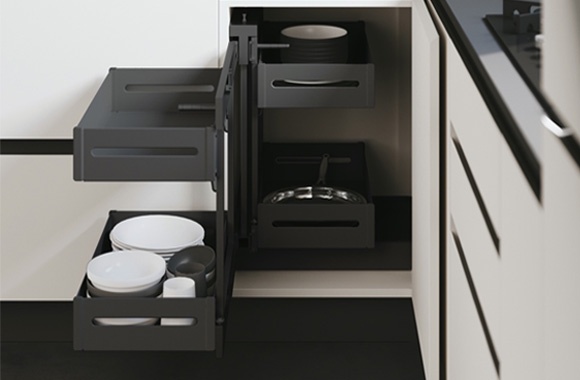 NEW QUADRA INNERWARE RANGE
We're welcoming our NEW Quadra Innerware Range!
A contemporary range of European storage solutions inspired by minimalist design principles, to help you get the most out of your cupboards. Each item in our NEW range is finished in a stylish anthracite, creating a cohesive and striking selection that will blend effortlessly with your modern finishes. Utilise your cabinet space efficiently; our Quadra Range has modules to suit various cabinet widths and configurations. Optimise accessible storage in base, corner and pantry units for a functional and modern finish across your Kitchen Innerware. Learn more about our Quadra Range below or
here
for a brief overview.

QUADRA BASE PULL-OUT UNITS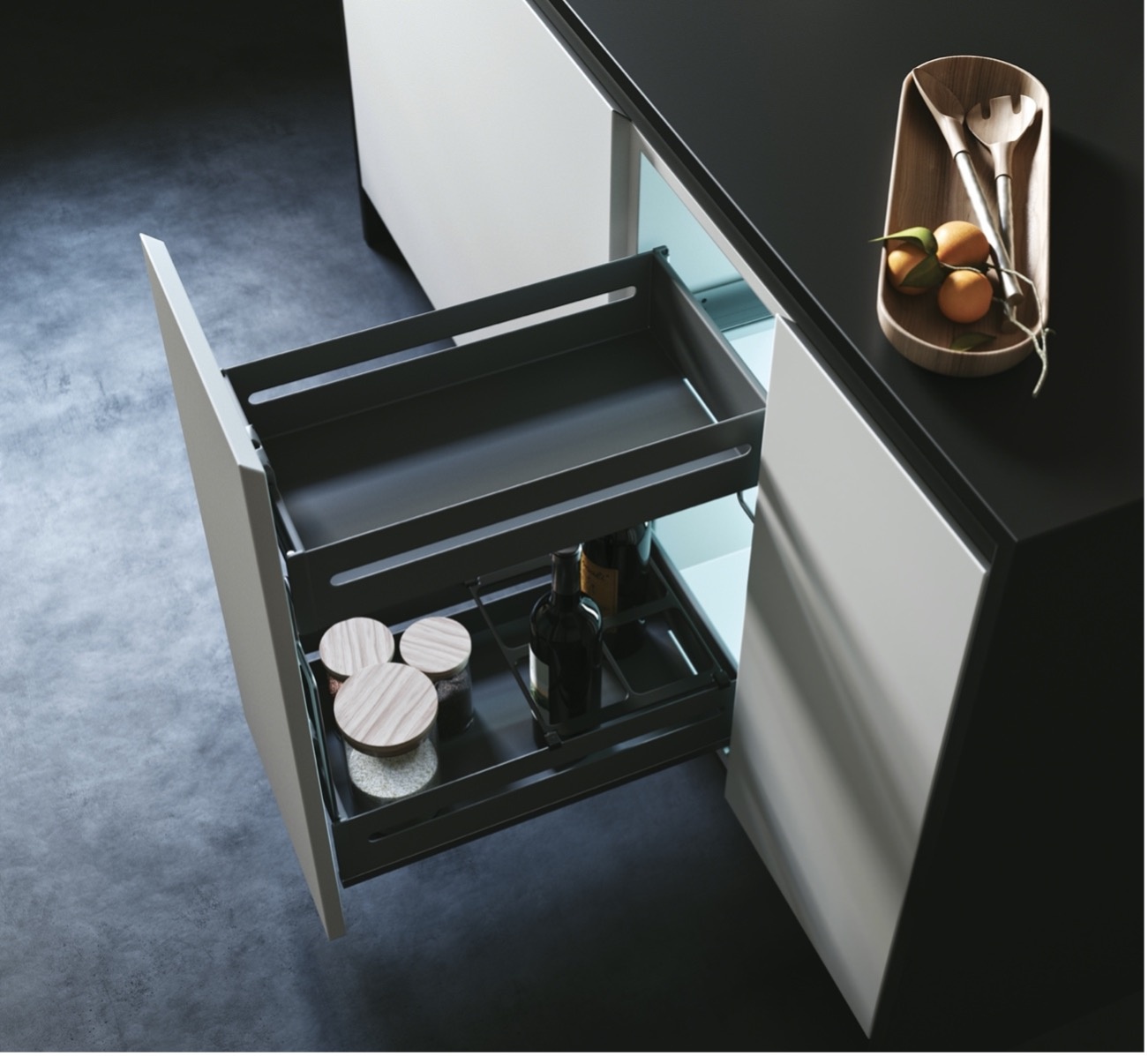 Make our NEW Quadra Base Pull-Out unit your go-to base cupboard organiser. A sophisticated and stylish base solution with the practical benefits of all your necessities are within reach, it's a perfect new addition to your innerware collection. Integrated full extension soft close runners ensure a universal pull-out motion soft and reliable gliding for open and close action. Sturdy and secure, our Quadra Pull-Out unit can hold up to 20kg of weight, optimised with solid base shelving to improve stability for base cabinet storage. Integrate this unit to cabinet widths of 150mm, 200mm and 300mm.
Shop our
Quadra Base Pull-Out unit.

QUADRA COMPLETE OUT CORNER UNIT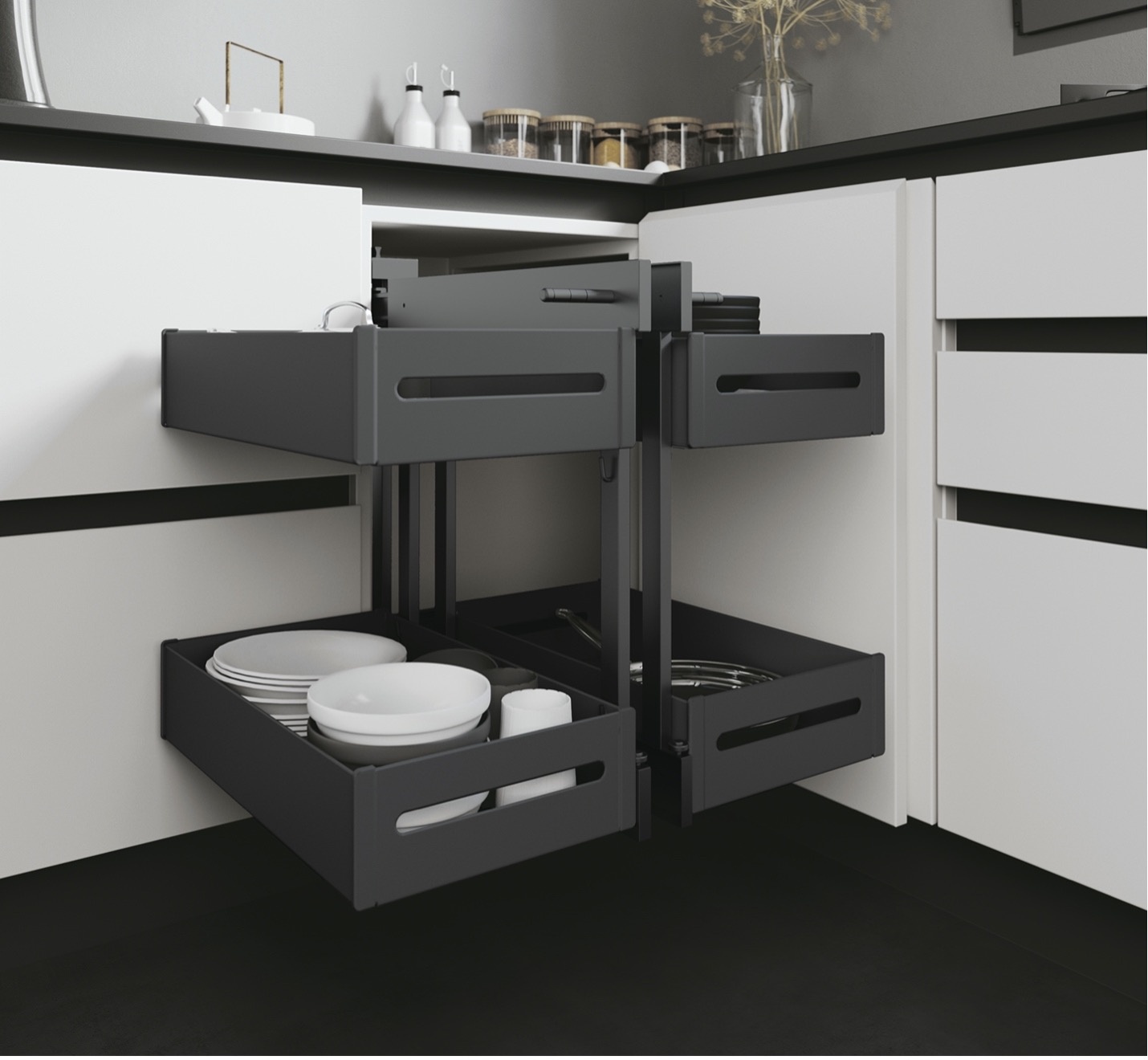 Our NEW Quadra Complete Pull-Out Corner unit is finished in a stylish anthracite and this beauty is equipped with integrated soft closing. Provide complete access to corner storage and an 8kg capacity weight per tray, customise your storage to your needs. The solid base provides improved item stability, while options are available for both left and right mounting. Compatible with door openings of 450mm, you can take advantage of this stunning new addition to our Innerware Range, for a practical solution to kitchen organisational woes.
Shop our
Complete Pull-Out Corner unit.
OVALINA CORNER SWIVEL UNIT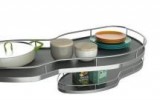 Revamp your corner cabinets with our NEW Ovalina Corner Swivel unit. Create a better organised space with two independent rotating baskets that drastically increase your storage options. Each platform can hold 10kgs and can make handling heavier kitchen items easy and safe to access. Modern conveniences are covered in this unit with integrated soft close damping which reduces noise pollution and ensures the reliability of your unit over its lifetime. This sleek design and anthracite finish implements seamlessly into your project to match your current design and compliment modern finishes.
Shop our
NEW Ovalina Corner Swivel unit.
QUADRA PULL-OUT BINS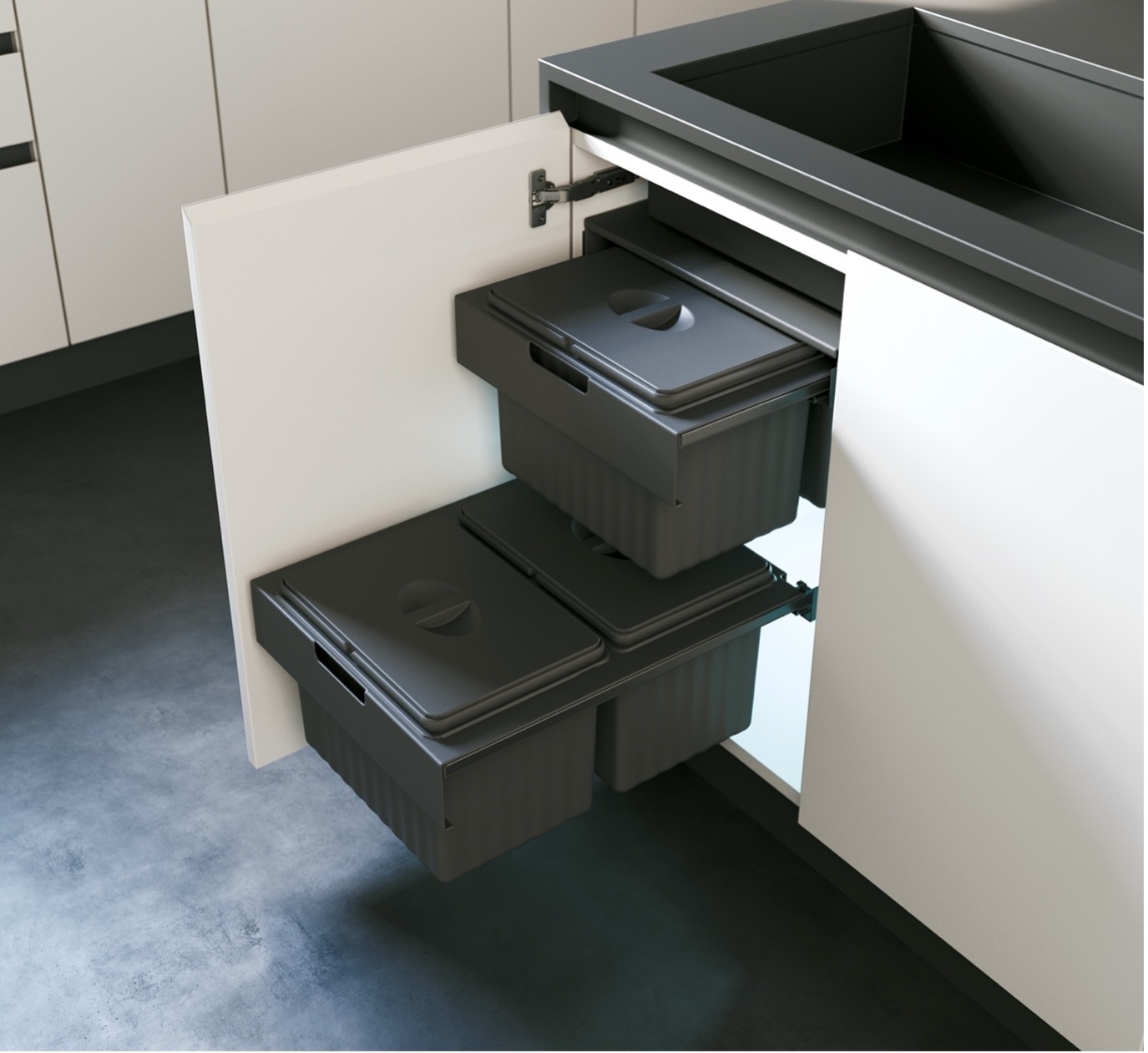 Upgrade your waste management system with our NEW Quadra Pull-Out Bins. Housed in a compact and sleek design, this multi-faceted unit has four space-saving bins for easy separation and rubbish management. Designed with independent pull-out shelves, easily access and select you preferred bin. Integrated removable lids and soft close runners allow for a highly intuitive unit that can accomplish your heavy-duty tasks. Looking for more capacity? Why not check out our anthracite Kosara Bins.
Shop our
Quadra Pull-Out Bins
.
QUADRA TALL PULL-OUT PANTRY UNIT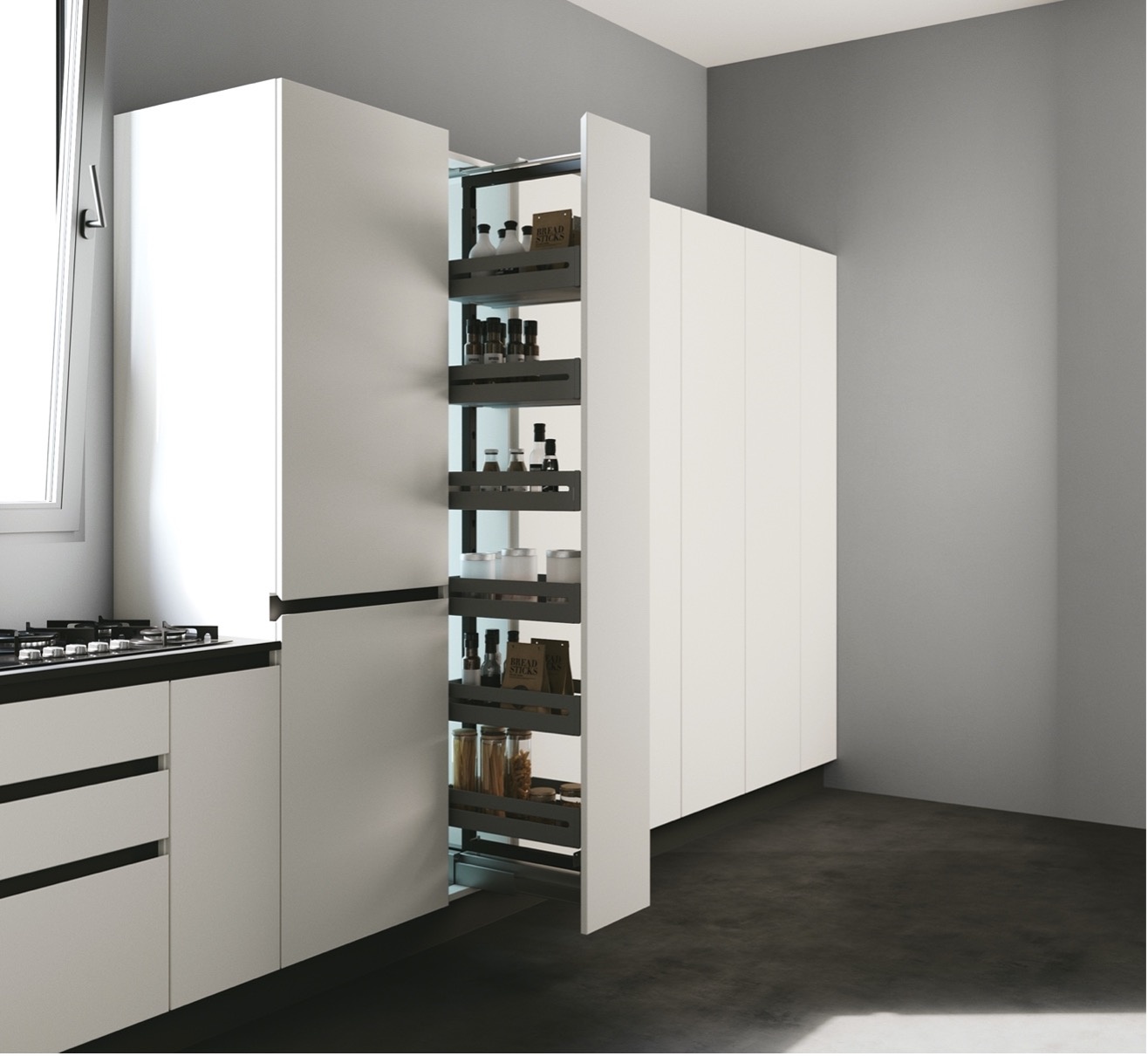 Our NEW soft close Quadra Tall Pull-Out Pantry unit is one of the best storage solutions for your modern kitchen or butler's pantry. Six modern anthracite base baskets easily store and organise your kitchen necessities, with up to 120kg full extension capacity. The solid bases minimise mess and spills and ensure maximum useability. Upgrade your project by integrating this height adjustable unit to cabinet widths of 300mm and 400mm without having to overhaul your design. Functional and stylish, the Quadra Tall Pull-Out Pantry Unit fuses the best of both worlds.
Shop our
Quadra Tall Pull-Out Pantry unit
.
QUADRA TALL SLIDE-OUT PANTRY UNIT
Maximise storage space with our stylish NEW Tall Slide-Out Pantry unit. Equipped with five solid-base baskets in an intuitive slide-out design for easy full basket access. Implement with cabinet widths of 450mm and 600mm for a seamless blend of function and beauty. Load up the height adjustable Tall Slide-Out Pantry with up to 120kg full extension capacity, from everyday essentials to specialised ingredients, it can hold it all. Completed in a stylish anthracite finish and integrated soft close damping ensures modern convenience in a striking design. For added luxury, create a spacious double pantry by mounting two units side-by-side.
Shop our
Quadra Tall Slide-Out Pantry unit
.