Design Trends: Get Ahead in 2022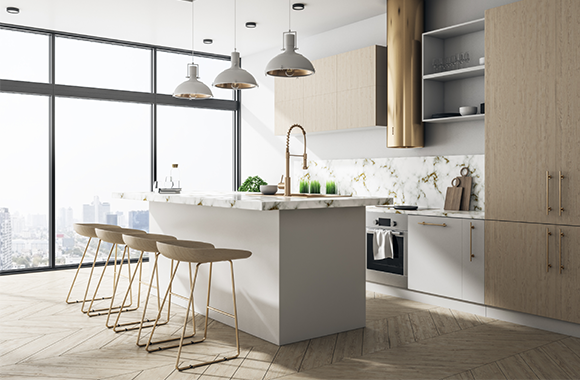 Now that 2021 is ending, we begin to look forward to the incoming year ahead. This year featured more WFH lifestyles and jumping in and out of lockdown before triumphantly reaching vaccination records. We can now safely mingle again and return to somewhat pre-COVID living. So, what will 2022 hold?
Get inspired for your New Year reno with our predictions of the next big home design trends for 2022. Peek into the future below and see if you can get ahead of the trends.
Black Accents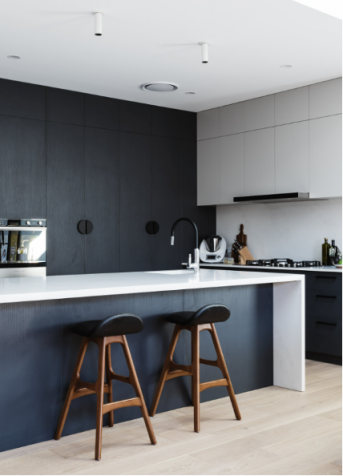 Image Source:
Coswick
We saw a lot of brass and brushed nickel in 2021. The year ahead will see a rise in popularity for Matt Black accents. Matt Black has become popular over the last few years, favoured for being fingerprint resistant while also adding edge and depth to more minimalist spaces. Contrast your black accents with light, neutral colours for the main elements of your space, this will help to accentuate smaller black accents like handles. Updating your handles and accents can be a quick and cost-effective way to add a pop of contrast to your existing space.
Shop our Matt Black Handles here to renew your home today.
Earth Conscious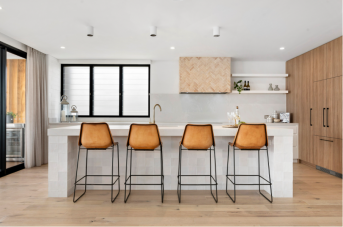 Image Source:
Osmond McLeod Architects
Homeowners are now seeking a more responsible approach to design so that their homes are timeless and last the test of time. Repurposing furniture and materials ensure a decline in fast fashion and design, minimising the impact on our earth.
Natural elements like reclaimed wood, handmade tiles, lush plants, woven fabrics and an abundance of natural light will make a splash in our homes next year. This style has already picked up pace and will continue to grow in 2022. Recycled pieces add a character and charm into your home and when paired with modern natural pieces creates a contemporary scape that is calming and balanced.

Versatile Spaces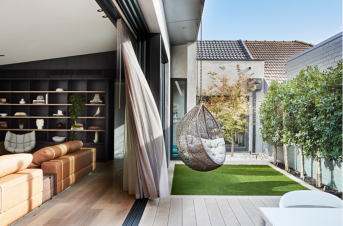 Image Source:
dcf design group
With the weather warming up we look to spend more time outdoors. Hybrid living spaces extend our homes and add versatility to how we use them. Homes that can be transformed and moulded for different needs; a guest room that doubles as a home office, is what many homeowners are seeking. The ability to use our spaces for more than one purpose is appealing with many of us working from home.
Whether you're remodelling or building from scratch, ensuring your floor plan is flexible and open plan creates a myriad of possibilities as your family and needs grow. We've all seen how quickly we can develop to our environment and creating a home that can adapt with you elevates its value.
Wet Bars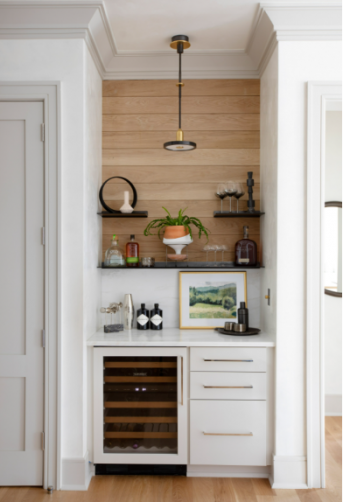 Image Source:
JLV Creative
You no longer have to leave your home just to get a good drink. Lockdown taught many of us how to make a good drink after a long day. Relax in your own home with a drink in hand and company sprawled on your couch. Home bars are popping up in many new home renos, easily incorporated with a simple styled bar cart or an extended wet bar on your alfresco.
Entertaining bars allow homeowners to display their prized collection and add flair to their homes. Integrate your home bar seamlessly with your current style or add a pop of colour through funky tiles or daring cabinets. As more Australian's choose a WFH lifestyle, we'll continue to see entertaining spaces flourish.
Will you be implementing these design features, or do you have your own ideas? Let us know below or on our social media, we'd love to hear your thoughts.