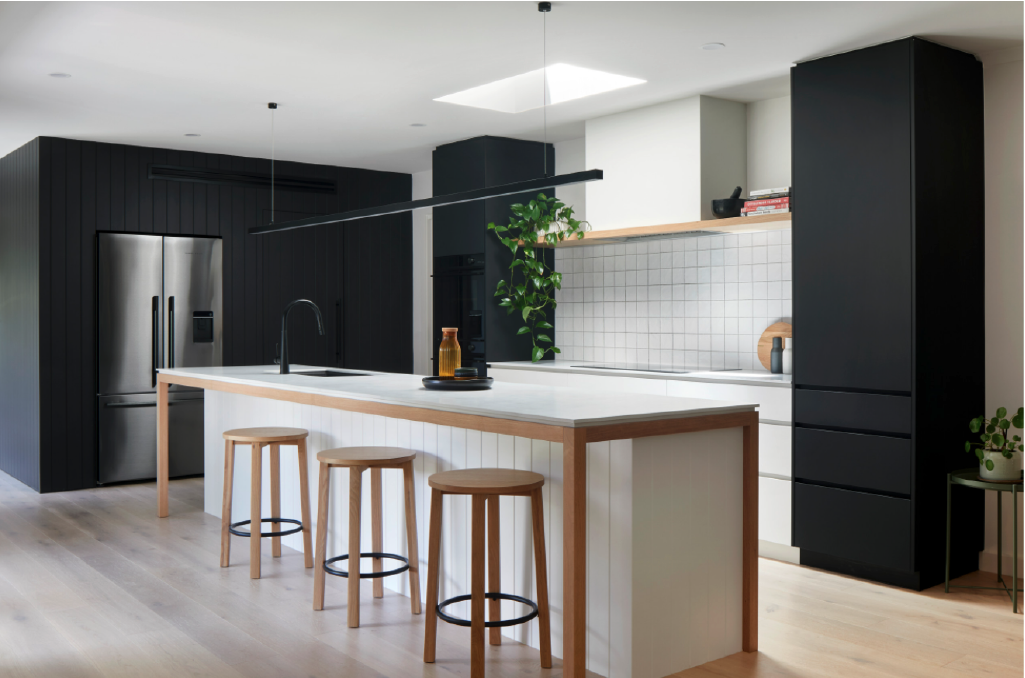 For the better part of 2020 we were confined to our homes, many decided space was a necessity in their home by adding further living space and studies to their property. Now that we're at the end of 2021, our homes still need to embrace WFH lifestyles with the added focus of extending our open plan living.
Get inspired for your summer renovation, while we dissect the most popular design trends of 2021. Can you guess what they'll be?
Clean & Pristine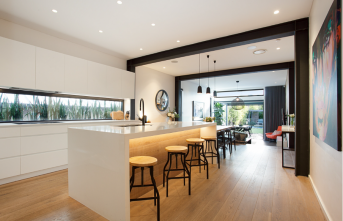 Image Source:
hecticrAt architects
Hygiene and cleanliness continue to be a top priority in our lives as the global pandemic shifts to a new phase. As we transition back to somewhat normalcy, we are more cautious of our surroundings and the rapid spread infections could have on our lives. Keeping our homes clean and flexible is important to maintain our health and wellness.
Key contact points in our home are light switches, handles and benchtops. Ensuring these places are bacteria free is near impossible with homes now being occupied by multiple family members. Switching to touchless technology for key touch points like faucets, lighting, cabinets and other appliances can reduce the possibility for infection to spread and limit bacteria accumulating.
Control your home with simple movements or become a tech whizz and implement voice-control into your home. This means you can turn on a light switch by opening a door or use your voice to turn on a tap. If this is too far advanced, consider switching out your old touch points like handles for new low-maintenance additions.
Select matte or brushed finishes for a low-maintenance upgrade that doesn't show fingerprints. If working warmer colours into your kitchen matt black finishes add a richer and warmer feel than traditional stainless steel. Shop our handles here.
Warm Colours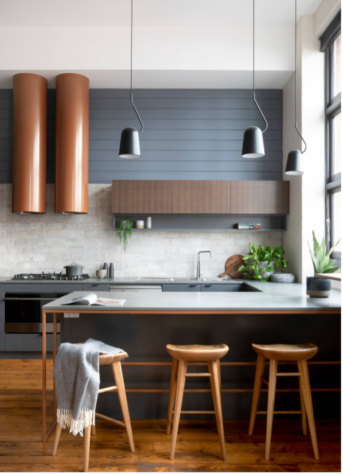 Image Source:
Jasmine McClelland Design
Traditional white will always remain a favourite kitchen colour scheme, but warmer shades have crept into our homes as we search for comfort during these difficult times. Grounded shades like warm beige accented by natural tones of orange and aqua evoke feelings of compassion and comfort. These colours naturally occur in our environment and create an optimistic pairing with greenery, natural wood tones, brass accents and even woven textures. Grounding your space in a warm natural ambience can subconsciously lift your mood and enrich your day-to-day life.
Open Plan Living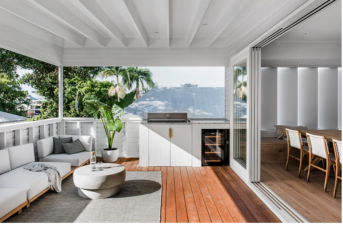 Image Source:
DAHA
This year's design trends take on another facet of the ever-growing organic styling. Nature-inspired and textured homes are becoming increasingly popular as our desire to be outside more finds its place in our homes. Soft woven fabrics, rattan, natural wood, greenery and natural warm hues are taking over interior design. As summer approaches, homeowners are taking it a step further and embracing open plan living.
Expand outdoors and create a spacious patio that allows you to enjoy sunny days and flood your home with light. Now that many of us can have guests in our home, entertaining is becoming even more imperative than last year. We are finally able to celebrate togetherness and this Christmas many want to have the perfect balance of indoor-outdoor space.
Flow off your kitchen and living area into your outdoor patio, to dine, cool-off or simply lazy outdoors while watching TV. Utilising every inch of our homes is imperative the more time we spend there. With many not returning to the office, it makes your home feel more inviting and spacious, without the need for a complete overhaul.
What was your favourite 2021 design trend? And which will you be bringing into 2022?