New T-type Glissando Hinge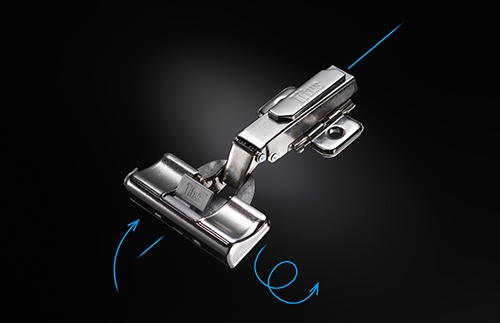 T-type Glissando, the new generation Titus hinge, is characterised by a highly tolerant design, which assures reliable door closing and a lifetime performance even in case of accidental misalignment and inaccurate drillings.
The T-type Glissando features the renowned Titus 'Confident Close', the consumer-preferred reliable and consistent soft-close damping characterised by late-start deceleration and quiet landing in the last stage of closing as the door leans against the cabinet side. The proprietary Titus multi-purpose integrated damping technology is positioned transversal in the hinge cup, ensuring life-long damping with no bounce-back and superior performance.
The T-type GlissandoThe '3Way' 'snap-on' mounting plate allows for an intuitive hinge-to-plate mounting in three directions, which enhances and simplifies the mounting experience. The '3Way' feature widens the scope of 'snap-on' hinges, which can now be confidently applied also to tall cabinets, where several hinges per door are required.
Low hinge cup drilling depth enables the wide range of applications on door thickness from 15mm on, providing flexibility in door material without compromising consistent performance in doors of different sizes and weights. The T-type Glissando is available with cross-mounting plates and the sleeker linear mounting plate, which facilitates improved hinge alignment with hinge-to-plate attachment. The T-type hinge is also suitable for use with Glissando TL and Titus Push Latch.
Contact your Titus Tekform Technical Sales Representative to enquire about the best T-type Glissando hinge for your application.