Titus Group impresses at Interzum 2017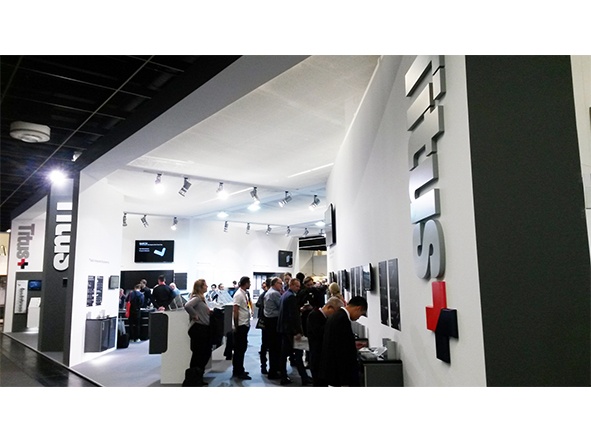 Visitors to the Titus Group Stand at Interzum 2017 in Cologne, Germany were greeted with new and innovative precision engineered Furniture Fittings.
T-type – Your Time, Our Priority.
T-type, Titus' new generation hinge, enables time-savings at cabinet assembly with '3Way' 'snap-on' mounting and assures a life-long consistent performance on a wide range of kitchen, bedroom and other doors.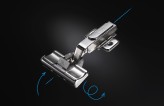 Its rigid design ensures reliable operation over a wide range of tolerances, even in the case of accidental misalignment and inaccurate drillings. The '3Way' 'snap-on' mounting plate allows for an intuitive hinge-to-plate mounting in three directions, which enhances and simplifies the mounting experience and enables easy door installation even in tall cabinets where 4-5 hinges per door are required. An easily accessible adjustment button provides intuitive adjustment of the damping action which gives an efficient soft closing performance on doors of different dimensions and weights. The T-type Glissando soft closing action is tuned to Titus 'ConfidentClose'. The door closes fast; the deceleration action begins at a late point of door closing action and the closing is especially slow and soft in the last stage when the door leans against the cabinet side.

Tekform drawer range extended with Slimline version
To adapt the offering to the demanding high end kitchen and bathroom market, Titus expanded the Tekform drawer, family of double wall drawers with Tekform slimline drawer featuring sleek look with 14mm side panels for an efficient utilisation of the drawer space.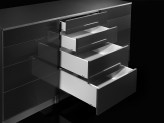 Tekform Slimline drawer uses same drilling patterns for runners as the 1st generation of Tekform drawers enabling easy drawer interchangeability and flexibility in use. The new addition is available in various attractive finishes that perfectly match the contemporary design of the furniture.

Quickfit TL5 'Full Metal Jacket', tool-free insertion technology for Ø5mm dowel holes
Quickfit TL5, the new generation Quickfit TL dowels, expands the Titus Quickfit tool-free insertion technology to incorporate widely used Ø5mm dowel holes.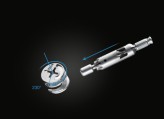 An expanding steel sleeve assures a high resistance to pull-out, an optimal strength with multiple wooden materials and a consistent performance even in case of repeatable assembly of the furniture and without wooden dowels. Extended dowel head form works as a positive stop against cam and provides drilling tolerances of +/- 1mm on drilling operation.
The Titus Quickfit TL range of dowels allows for factory insertion in the furniture panel providing a unique solution for an intuitive and fast cabinet assembly at home. For a maximum efficiency the cam and dowel insertion process can be automated using the Titus proprietary Lama FastFit machine