Titus Tekform wins Gold Star Award at AWISA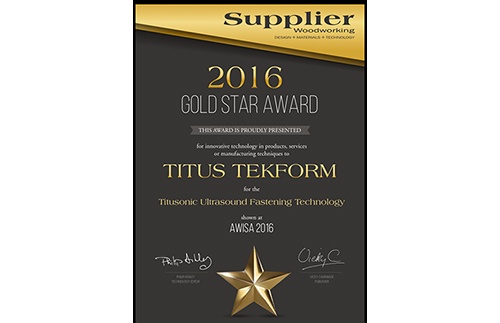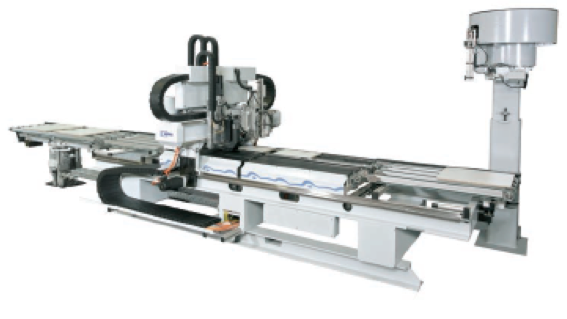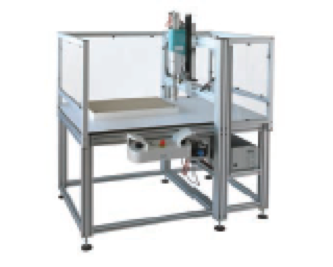 A Gold Star has been awarded to Titus Tekform for the Titusonic Ultrasound Fastening machine, which uses a revolutionary glueless process to bond materials, providing exceptional strength and speed of fastening. The ultrasonic method uses a plastic Sonic Rivet in place of a traditional wooden dowel, eliminating the use of glue by applying pressure from approximately 20,000 cycles of ultrasonic energy per second. Only the ends of the rivet are melted, integrating the plastic with the chips in the wood, chipboard, MDF, HDF or plywood board to bond the boards together, utilising the natural porosity of the material.
Every AWISA, Elite Publishing presents its Gold Star awards for products that demonstrate excellence in innovation, and value to the wood and allied manufacturing sector. It could be a new product, system, process or new development in an existing technology.
The award is open to AWISA exhibitors only. Any technology innovation presented at AWISA that in the opinion of the judges meets the criteria, qualifies for an award. While not all products go on to wide use, they all represent innovations that add to the collective knowledge of the Industry.
Titusonic is significantly quicker than traditional methods, with only 2 seconds dwell time rather than 20-60 seconds, for a total fastening process at least three times quicker. The resulting product is 30% stronger than a traditional glued wooden dowel, and the lack of glue provides a cleaner process that eliminates the need to remove excess glue from machinery or furniture. Titusonic is a reliable and measurable process without the inconsistencies inherent in glues and dowels, providing predictable and repeatable performance to ensure uniform quality.

Titus Tekform would like to thank Elite Publishing for the nomination and recognition. Full details of the awards will be in the September issue of Supplier Magazine.