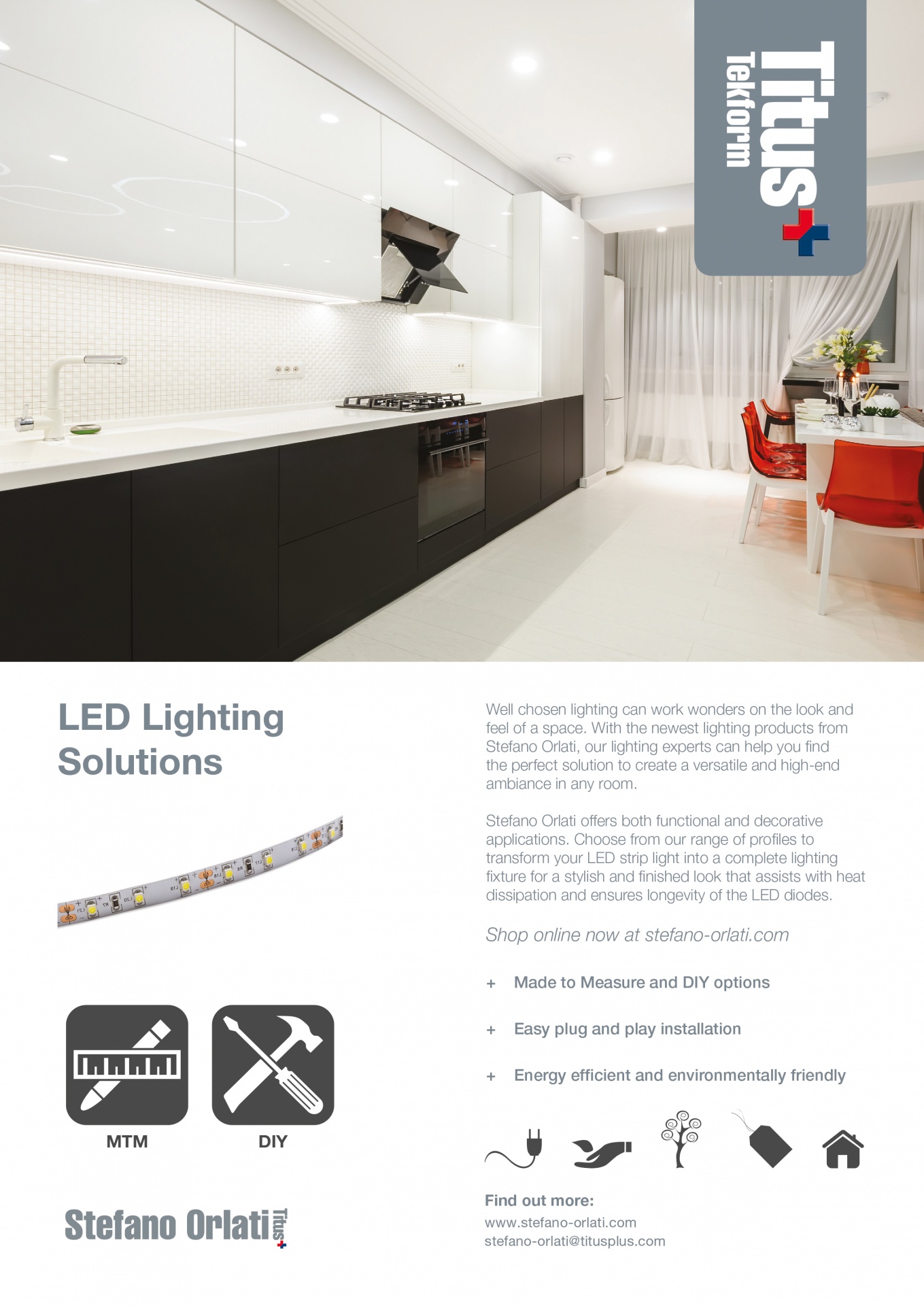 Made to Measure LED Lighting
Designing focus and accent lighting to suit a particular kitchen or bathroom environment can be the difference between a good build and a great build.
The Stefano Orlati range of made-to-measure LED lighting offers both functional and decorative lighting solutions that are safe, environmentally friendly and an effective design tool to help elevate any room. LED strip lighting can be ordered to size or is available in 5m lengths and unlike most lighting solutions, the Stefano Orlati range utilises Plug & Play installation, eliminating the need for an electrician or specialised installer.
The range offers many exciting options, including door motion sensors, hand motion sensors, PIR motion sensors and both dimmer and push button controllers. The expansive selection of LED strip lighting includes Daylight White (4000k), Cool White (6000k) and Warm White (3200k) options, as well as multicolour and water resistant varieties. LED profiles to assist in heat dissipation and ensure longevity of the diodes turn your LED strip into a complete lighting fixture for a stylish and finished look.
Clear diffuser options provide maximum illumination and opaque diffusers disperse light for a softer glow, ideal for bathroom, wardrobe or shopfitting applications. Whether you want your lighting placed inside a shelf, under a cabinet or wrapped around a corner, the Stefano Orlati Made to Measure LED Lighting program will fabricate all joins and finishes for you.
All you have to do is simply plug and play!
Our supply partner, Fastmount, outfitted high-performance, tailor-made sailing yachts with an efficient, durable and space-saving ceiling and wall concealed panel mounting system.
OptiMatt PET board was chosen by ECO1 Kitchens for its PET film and E0 substrate, as a quality, stylish alternative to the formaldehyde binders in most MDF cabinets.
Interzum Cologne was the latest trade show to demonstrate the Titus range of innovative hardware products. The Titus stand was a rousing success and represented a fantastic opportunity to connect with customers and industry peers.