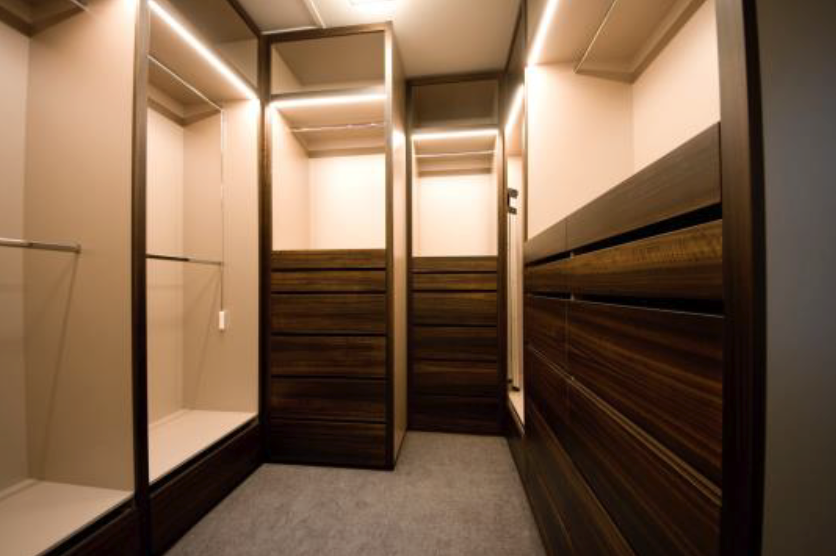 As many design companies will attest, custom build projects often require some creative problem solving to address the unique needs of the client in a way that not only addresses the issue, but also complements, or even enhances, the overall design. Thankfully turning a potential disadvantage into an asset of the build is a skill at which Melbourne's Studio Loza excels.
With 30 years' industry experience and a focus on sustainability without compromising aesthetic, Studio Loza's commitment to 'artistic vision, graphic skill, material knowledge and immaculate attention to detail' has ensured their rise to the forefront of Melbourne's boutique design companies.
When commissioned to custom build a 'gentleman's wardrobe' in a small and dark space, with no windows and a dark carpet, Andrzej Loza recognised that standard ceiling lights would be ineffective at lighting the interior of the cabinets and sought an alternative. After contacting his local Titus Tekform representative, he was referred to the Stefano Orlati LED Strip Lighting, which provided the 'perfect' solution.
'Prompt response, good presentation and delivery of free samples for client approval', says Loza on the deciding factor in choosing the Stefano Orlati continuous LED strip lights for the wardrobe project. The non-dotted LED lighting creates steady illumination of the wardrobe interior for a visually stunning effect that readily complements the dark finish. While the client was impressed with the product, what Loza found most helpful was the quick and professional response from Anita, his sales representative, citing swift communication between a supplier and manufacturer as 'paramount' to a successful relationship.
With Titus Tekform's reasonable pricing and quality service, Studio Loza was able to provide high-end joinery for a competitive price, ensuing the 'total client's satisfaction'. The final result was a highly functional piece of furniture that maintained Loza's distinctive style and promise of sustainable luxury.